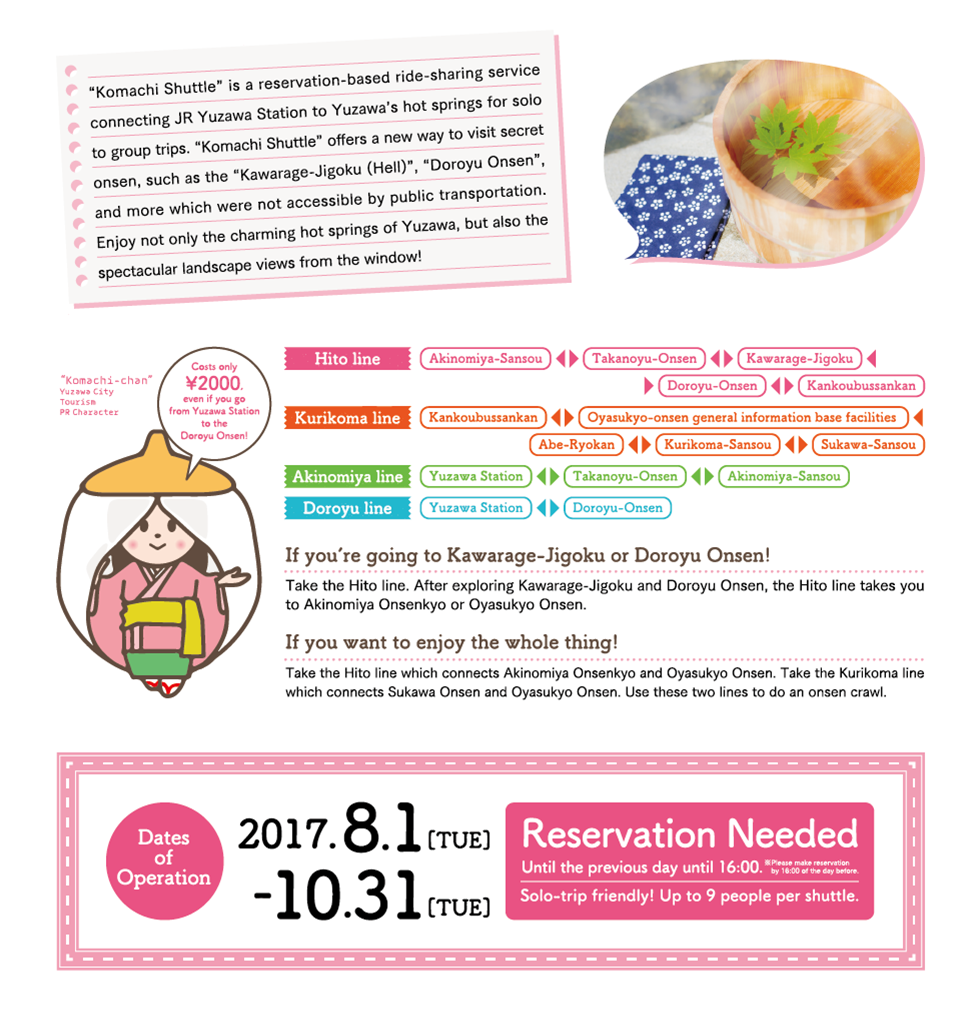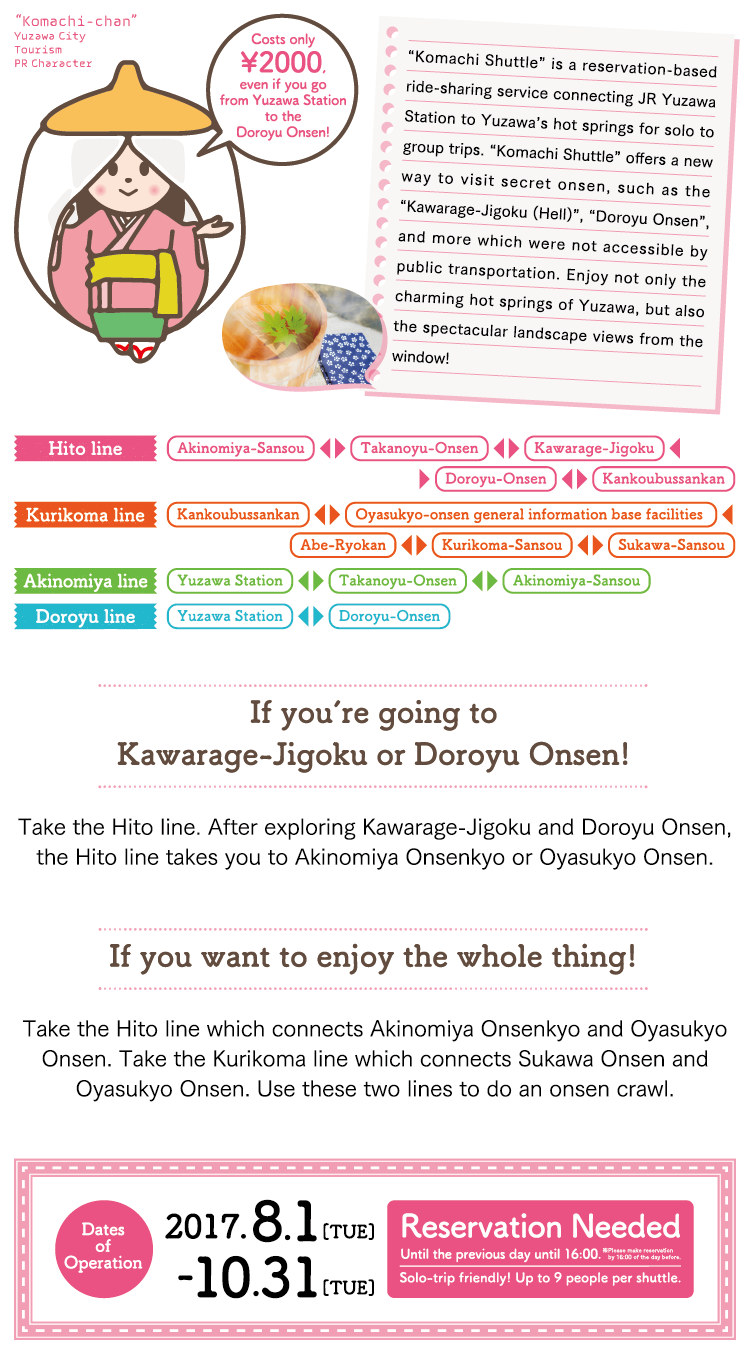 Yuzawa City Industry Promotion Department
Tourism Geopark Promotion Division
MON-FRI 8:30-17:15
Yuzawa taxi
FAX 0183-73-2153
Handling of personal information
Please be noted that the personal infermation provided at the reuservation (name,address,
phone number etc.) will be provided to the business operator prior to the service.
The information will be managed appropriately and carefully by each business operaator.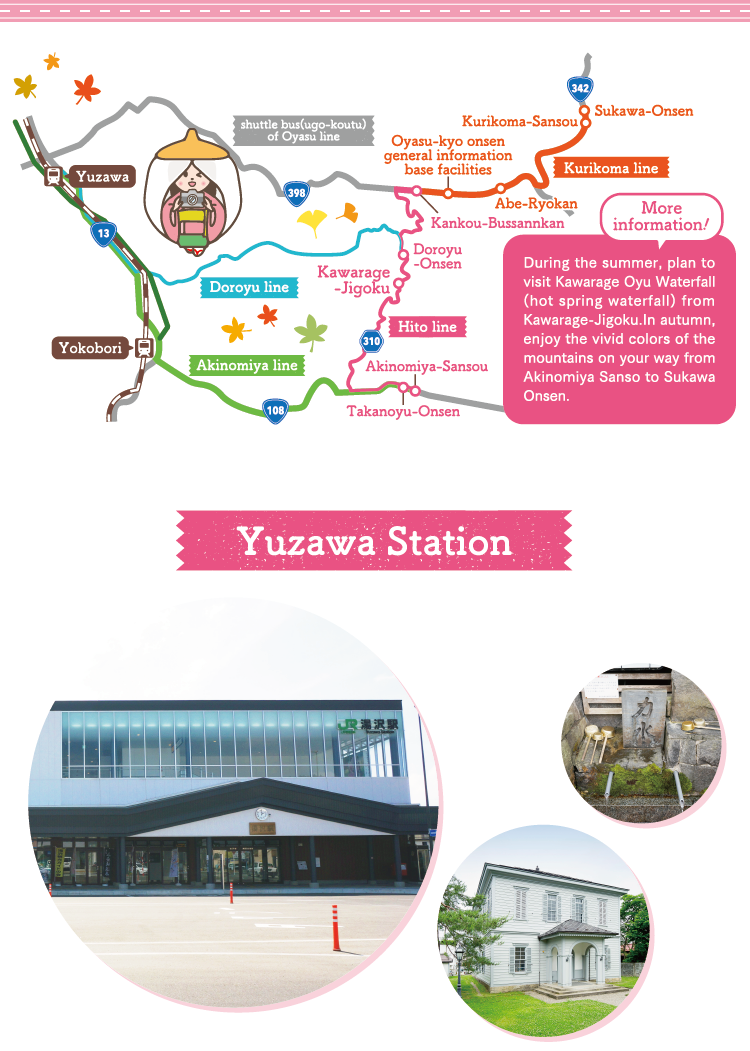 JR Yuzawa Station on the Ou Honsen (Ou Main Line) was recently renovated in 2015. This modern building was designed to resemble the good old days of Yuzawa. For example, the glass wall depicts a motif from the local summer festival, "Tanabata Picture Lantern Festival", or the white walls or the entrance is reminiscent of the traditional sake brewery of Yuzawa. There are full-time geopark guides in the station who can support you with tourism and transportation information. In this area, you can find local snacks such as "oranda-yaki", three different traditional sake breweries which include gift shops, and the former Ogachi County Assembly Hall (a Prefectural Designated Tangible Cultural Property). Within walking distance of the station, there is Chou Park (Central Park), a neighborhood favorite area, surrounded by the new Yuzawa City Hall or Chikara-Mizu (Power Water), one of the best 100 natural water sources in Japan. Enjoy the neighborhood on foot, following historic routes such as "Oseki" or "Koji", which still has the flavor of the old town.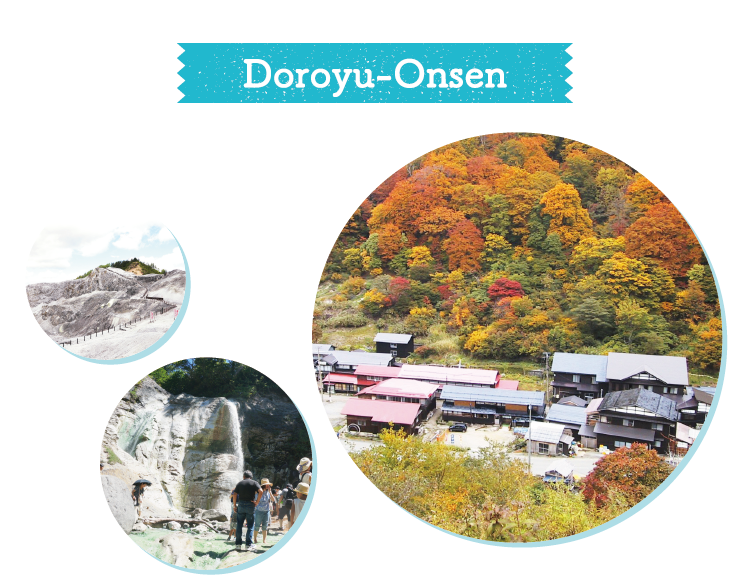 This onsen is said to have opened 1200 years ago. The view of the numerous inns crowded together with steam rising from each inn makes it one of the most photogenic onsens in the area. The sulfur is the main component of the hot spring; its strong smell and the texture of the water attracts many visitors – not just onsen lovers, but also people who use hot springs for medical purposes. In this area, there are "Kawarage Jigoku" as one of the three major sacred places of Japanese Buddhism, "Jizo-Bosatsu (Bodhisattva)" and "Kawarage Oyu Taki", a hot spring waterfall. With "Sanzugawa Keikoku" valley, the surrounding area forms a great scenic spot of red, colored leaves in autumn.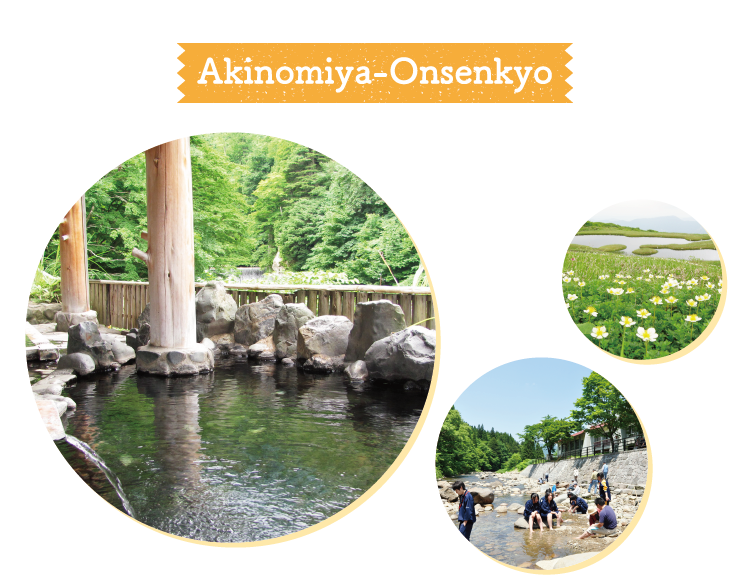 "Akinomiya Onsenkyo (hot spring town)", located in the prefecture border between Miyagi and Akita prefecture, is said to be the oldest hot spring town in Akita Prefecture. Known for its abundant water, there are about 40 different sources around the area and each inn has their own sources for hot springs. Surprisingly, about 70% of households draw hot spring water into their house. Tourists can also experience their "own hot spring" for free at the "Riverbed Onsen (Kawara-no-Yukko)". This "Riverbed Onsen" is a sightseeing spot where you can dig your own footbath. With three kilometers of riverbed, you can dig anywhere to get your own onsen! It is very popular to order delivery from local dining to the riverbed. There are other popular activities in this onsen town. For example, you can try baking pizza at a facility where you can experience nature, or signature "Matagi"* cuisine at a diner serving bear meat and wild vegetable.
*Matagi: traditional winter hunters in Akita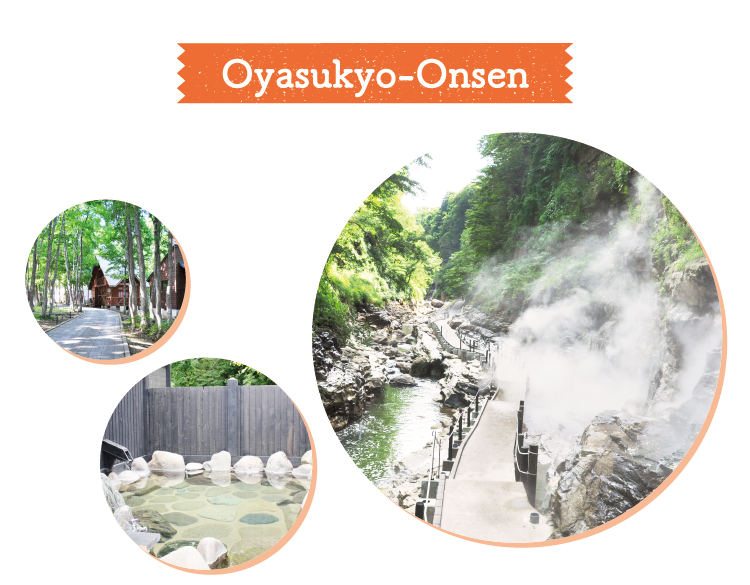 Oyasukyo Onsen, located on the east end of Yuzawa City, has "Oyasukyo Onsen" and "Oyu Onsen". With geothermal energy, both are some of the oldest onsen towns in this area. Along the street, there are many onsen inn lined up, each of them a unique one-and-only kind of inn. Enjoy strolling along the street from onsen to onsen or sit down and relax in a foot bath on the way. "Oyu Onsen" is a place where you can enjoy the river and valleys. Daifunto (Giant Fountain) is one of the must-see tourist spots in Yuzawa City. Descending the rocky staircase in Oyasu-kyo gorge, the trails go steadily, and you'll feel the breath of the earth with the sound of steam violently bursting out. This onsen has "Tokoton Yama", a camping site popular with visitors, from families to couples, and an agricultural store selling fresh, local produce from vegetables to dairy.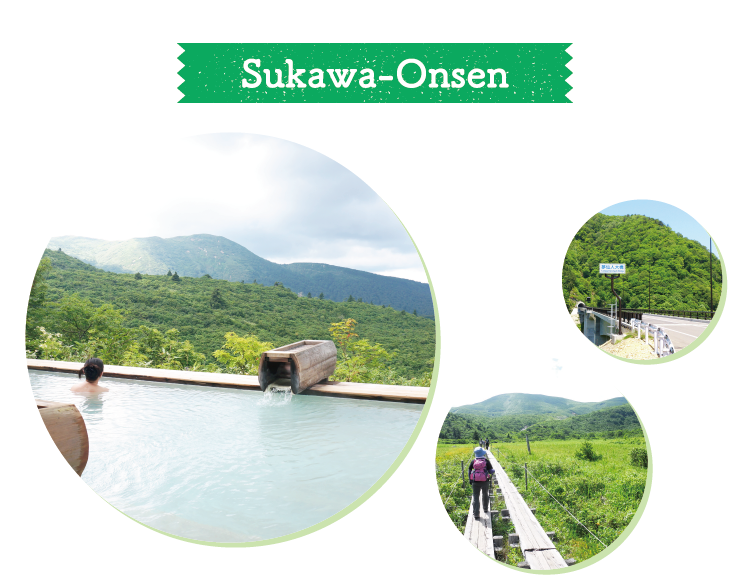 Sukawa Onsen is a hot spring resort located on the prefectural border of Akita and Iwate prefectures, in Mt. Kurikoma. There are two onsen inns which attract many hot spring lovers with their unique accommodations. If you're a nature lover, you'll enjoy its scenic views of the surrounding area, such as Lake Sukawa.
You can enjoy Mt. Kurikoma in many ways, such as climbing, trekking, camping, and forest bathing* in summer and leaf-hunting in autumn. The surrounding roads are congested with traffic due to its popularity, especially in autumn!
*Forest bathing: the practice of visiting a forest for health benefits.