Doroyu onsen is said to have opened 1200 years ago. The view of the numerous inns crowded together with steam rising from each inn makes it one of the most photogenic onsens in the area. The sulfur is the main component of the hot spring; its strong smell and the texture of the water attracts many visitors – not just onsen lovers, but also people who use hot springs for medical purposes. In this area, there are "Kawarage Jigoku" as one of the three major sacred places of Japanese Buddhism, "Jizo-Bosatsu (Bodhisattva)" and "Kawarage Oyu Taki", a hot spring waterfall. With "Sanzugawa Keikoku" valley, the surrounding area forms a great scenic spot of red, colored leaves in autumn.
Contact:
Yuzawa City Tourism and Products Association TEL 0183-73-0415
Yuzawa City Tourism Geopark Promotion Division TEL 0183-55-8180
Near Kawarage Jigoku Area
●Kawarage Jigoku
Kawarage Jigoku Shuttle Stop Hito Line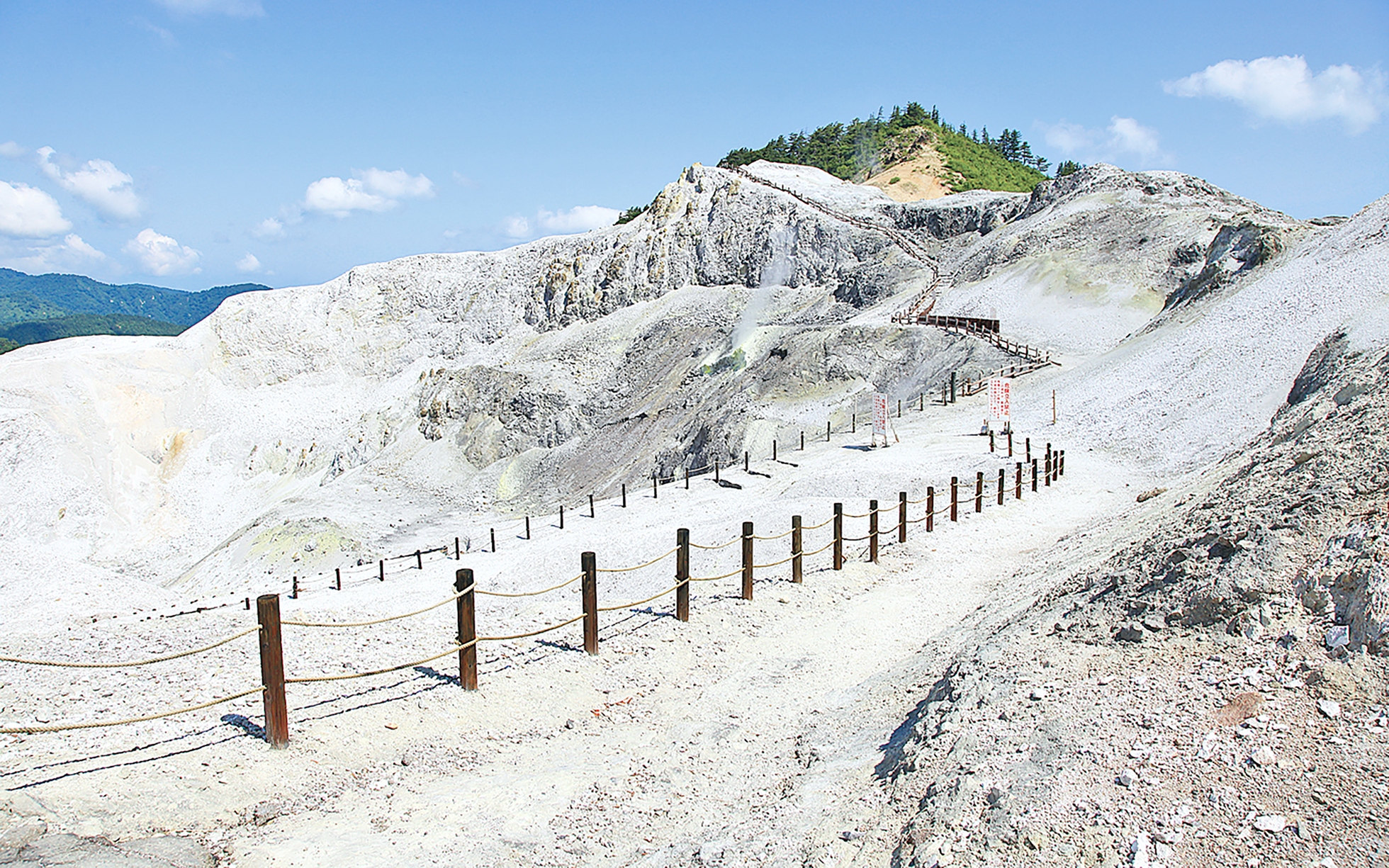 Along with Mt. Osorezan (Aomori) and Mt. Tateyama (Toyama), Kawarage Jigoku is one of the three major sacred places in Japan.
The religion was founded by Priest Gesso in 807, the Daido period. The mountain surface is covered with silicified welded tuff, its grayish white view reminds about the volcanic activity that still takes place underneath. Upon your arrival, you immediately note the strong smell of sulfur, followed by a dreary landscape with little vegetation with steam gusting here and there. You then realize why this place is called "Jigoku" ( literally "hell" in Japanese).
Recommended period: From May to November (closed in winter)
● Kawarage Jigoku Oyu Falls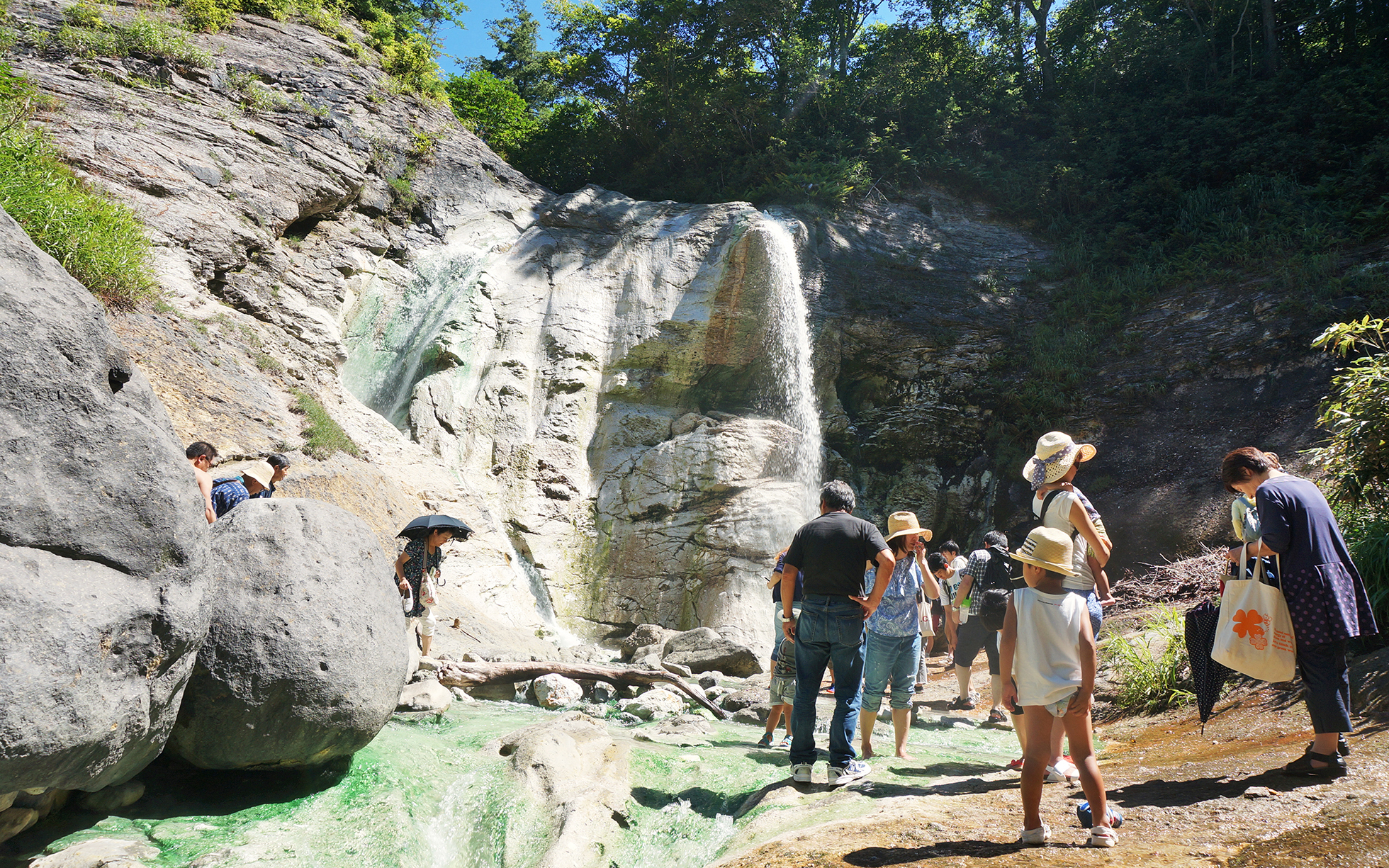 It is a rare waterfall as it is a hot spring- the hot spring water source merges with a mountain stream that constituted this dramatic waterfall falling down from 20-meter. The waterfall basin and streams are all natural open baths, it is a one of the very few hot spring falls in Japan, a spot for hikers to appreciate the magnificent nature.
It takes about 15 minutes to reach out from the parking lot, and the best season for bathing is from early July to mid-September. Remember to bring a swimsuit for bathing. Changing rooms are available.
Recommended period: From May to November (closed in winter)
Near Doroyu Onsen Area
● Okuyama Ryokan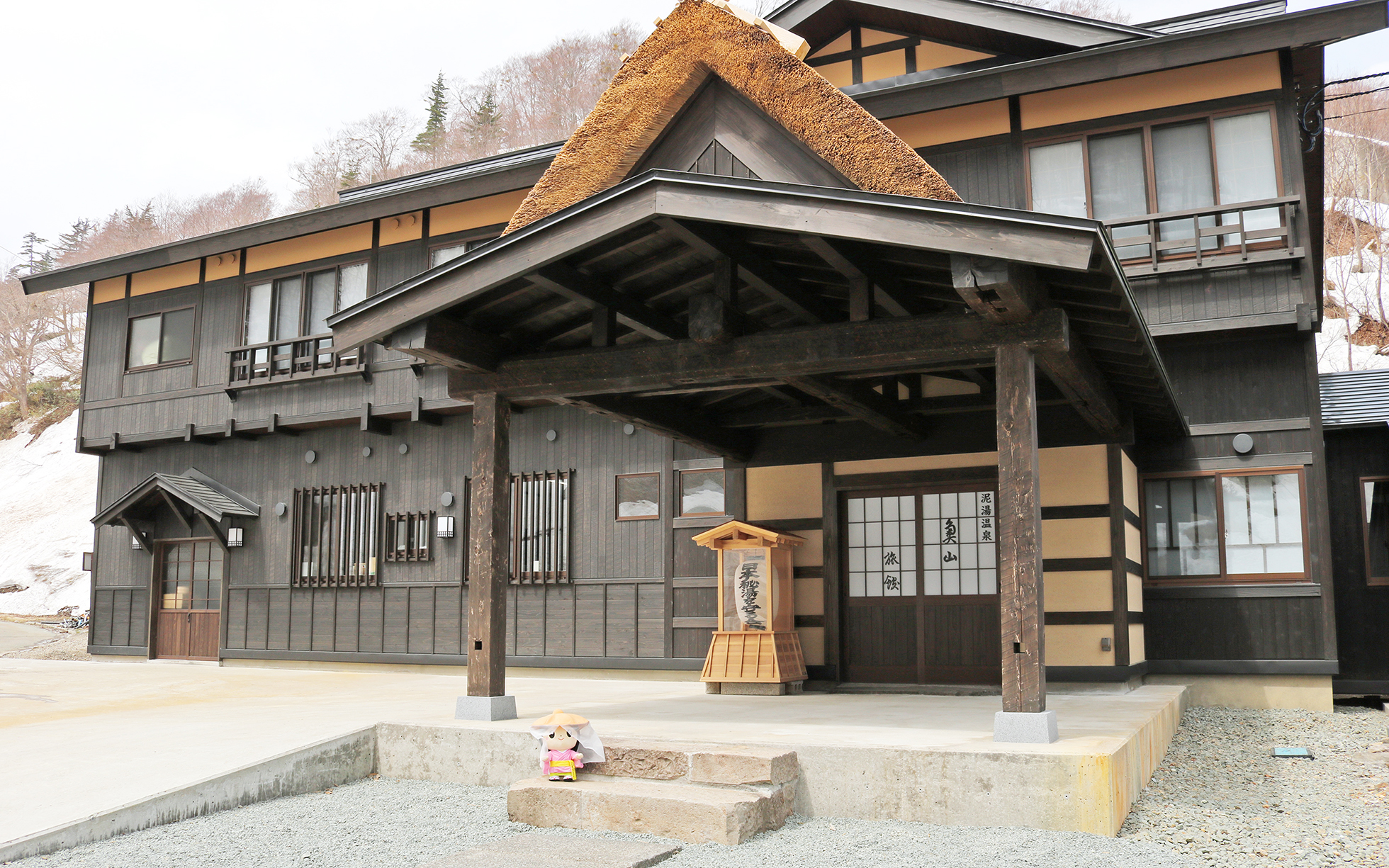 Doroyu Onsen is located near the prefectural border between Akita and Miyagi, and it is known as therapeutic spa since the Heian era.
It is the secretive hot spring with three types of baths from three different water sources. Also, learn more about the Yuzawa Geopark in the building, which was remodeled and re-opened in 2019. It is a member of the Japan Association of Secluded Hot Spring Inns.
Open all years
Accommodation Fee: 1-night, 2-day, 16,350 yen up (*depending on the season and the number of guests per room)
Day-trip bath:Indoor bath, mixed open bath, large open bath: 10:00am – 3:00pm
700 yen (adults) 300 yen (children) Large open bath: 03:00pm – 5:00pm Adults 300 yen Children 300 yen
Okuyama Ryokan TEL 0183-56-2450
Others *Relatively far away from shuttle drop off points
●Sanzugawa Gorge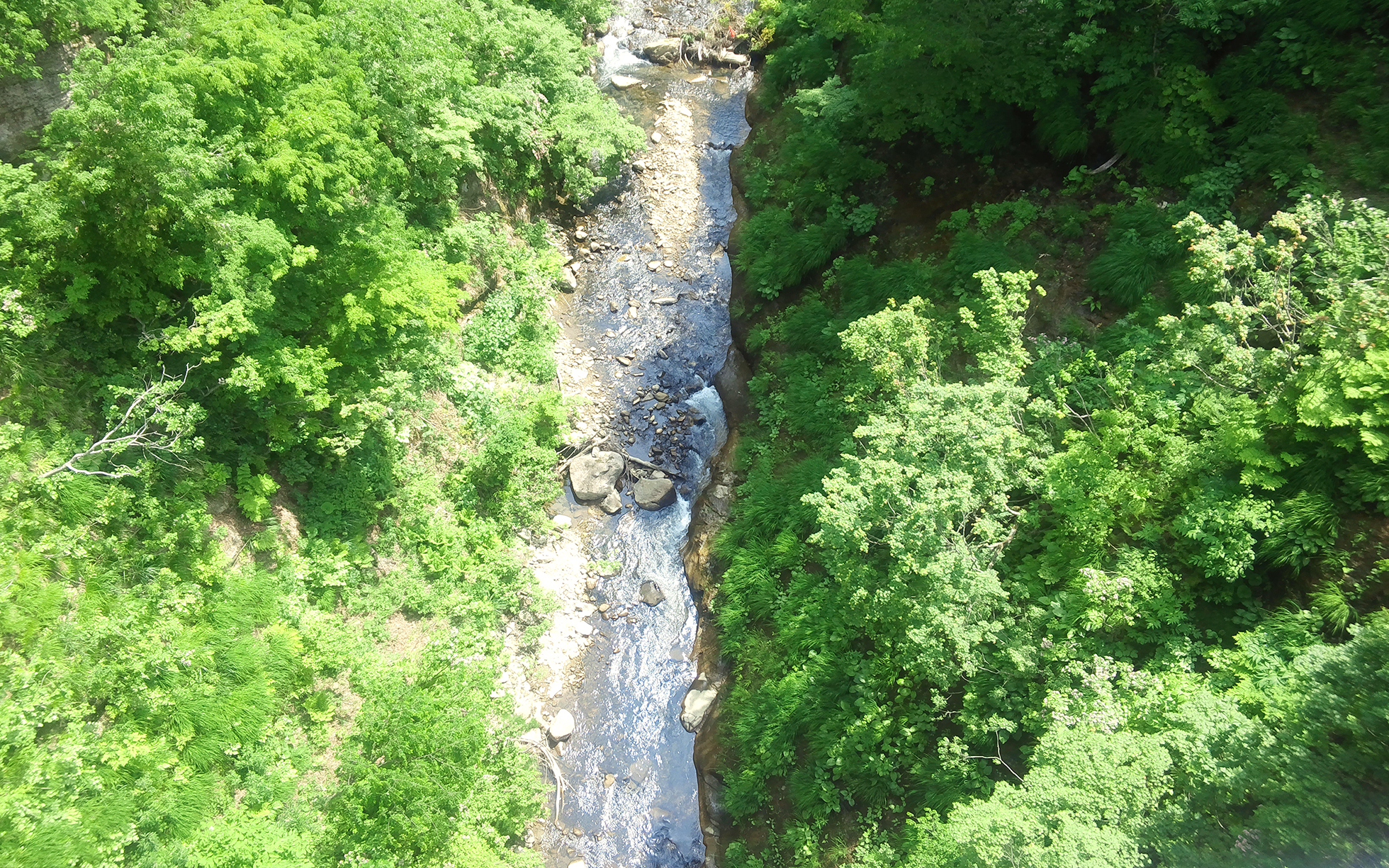 Located at the entrance to Kawarage Jigoku, the Sanzugawa Bridge over the gorge is 40m up the river surface. While looking down the cliff from the bridge, you see the reason the river is called "Sanzugawa", meaning the river to the netherworld.In autumn, a spectacular view of red and gold leaves washes away your fear of heights.There are parking lots nearby. *Vending machines and rest rooms are also available at the parking lots.